HUNINEU, the Office for the Representation of Hungarian National Communities and Balassi Institute, Cultural Service of the Embassy of Hungary invite you to a
panel discussion and folk concert
on the occasion of the
Day of National Unity
Round table discussion about the current situation of Hungarians living in Slovakia, Transylvania, Vojvodina and Transcarpathia. Exploring the opportunities through which these communities can
re-establish their relation with Hungary through regional cooperations.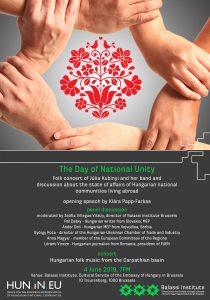 Participants of the panel discussion:
Pál Csáky, Hungarian writer from Slovakia, MEP
Andor Deli, Hungarian MEP from Vojvodina, Serbia
György Kota, director of the Hungarian-Ukrainian Chamber of Trade and Industry
Anna Magyar, member of the European Committee of the Regions
Lóránt Vincze, Hungarian journalist from Romania, president of FUEN
Moderator: Zsófia Villegas-Vitézy, director of Balassi Institute Brussels
The panel discussion will be held in English.
The folk concert of Júlia Kubinyi gives insight into the diversity of Hungarian folk music and to highlights the characteristics of the music of Transylvania, Upper Hungary, Zakarpattia Oblast and Lower Hungary.
Musicians:
Júlia Kubinyi – vocals
Márton Pusko – violin
Gábor Dragony – viola
Barna Mihálydeák – double bass
4 June 2019, 19:00
Venue: Balassi Institute, Cultural Service of the Embassy of Hungary in Brussels
10 Treurenberg, 1000 Brussels