Folk and Bull címmel a HUNINEU Iroda szervezésében Kárpát-medencei népzenével kísérve, szekszárdi borokat mutattak be magyar és angol nyelven.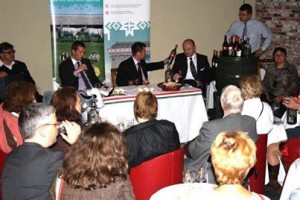 Remek környezetben zsúfolt házzal zajló programunkon a muzsika és nóta hangjai a Muravidékről, Kárpátaljáról és csángó földről érkeztek, a borok kiváló bukovinai székely származású szekszárdi kézműves borászmestertől, Sebestyén Csabától.
A borok bemutatását magyar és belga sommelier-ek tartották – magyar és angol nyelven. A tíz órás zárást követően a huszáraink, zenekarunk és muravidéki énekmondóink vezetésével az egész társaság az intézetből, magyar népdalokat énekelve a brüsszeli főtérre, azaz a Grande Place-ra vonult. Innen több száz fős tapsoló tömeg bocsátott haza bennünket a csendrendeletre figyelmünket tapintatosan felhívó rendőri figyelmeztetés után.